Thanks to collaboration and determination, Canadian Alliance to End Homelessness confirms London has achieved functional zero veteran homelessness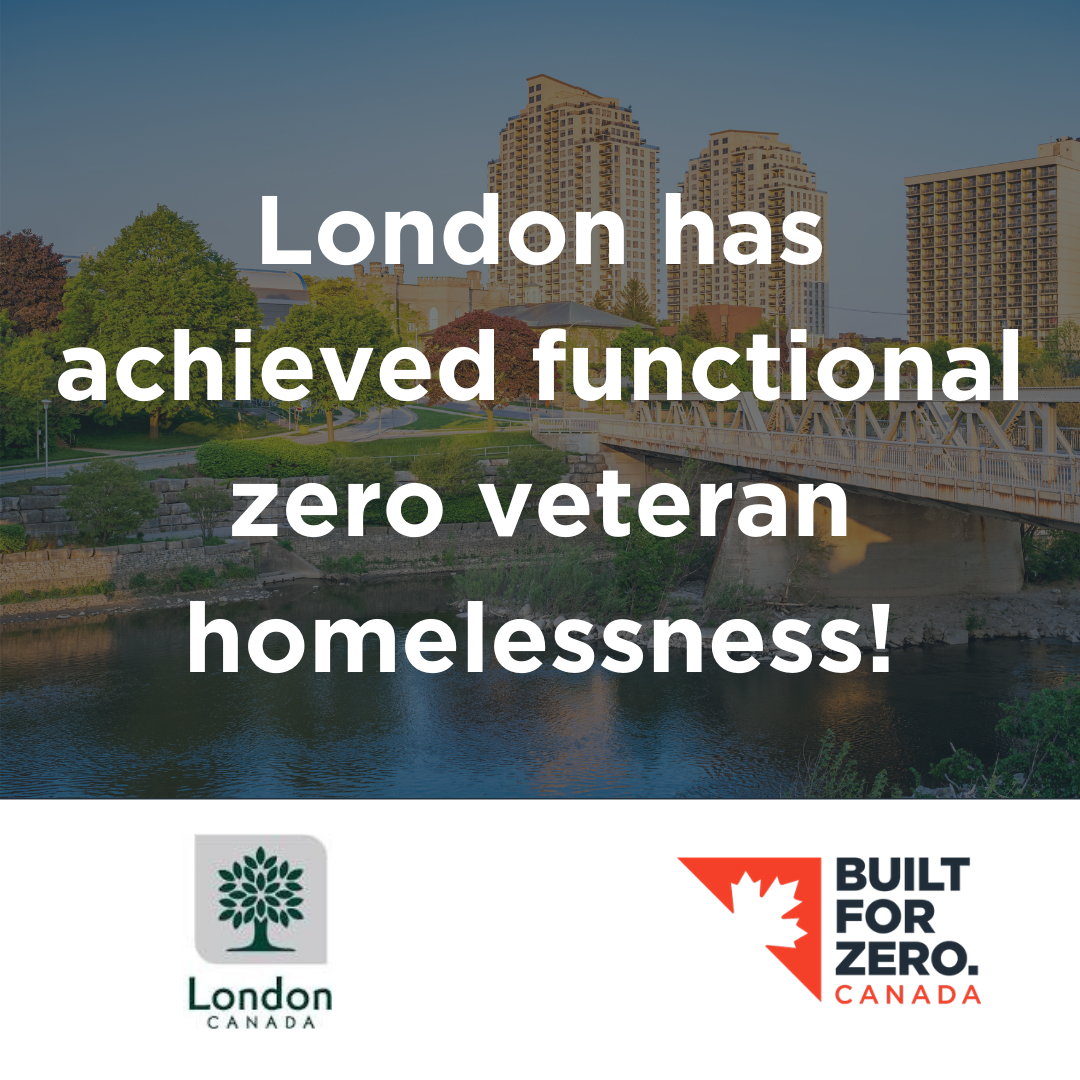 London has made history as the first community in Canada to functionally end veteran homelessness. The Built for Zero Canada (BFZ-C) community turned the pandemic into an opportunity to transform its system and better serve veterans experiencing homelessness.
BFZ-C has confirmed London as the first community to achieve functional zero veteran homelessness, which means the number of veterans experiencing homelessness is less than or equal to the number of veterans a community has proven it can house in a month. London functionally ended veteran homelessness in October and is now sustaining it and working toward absolute zero.
"This is an extremely proud day for London. It is the direct result of a compassionate community coming together to achieve something truly remarkable. Safe and affordable housing is a right for everyone, especially brave women and men who have so selflessly served our country,ÔÇØ says London Mayor Ed Holder. ÔÇ£It is my hope this achievement will instill in Londoners a┬ásense of pride, along with renewed determination to continue being a national leader in how we care for and support our most vulnerable."
LondonÔÇÖs key to success was relationship building, real-time data, coordinating access, prioritizing veterans, and rallying a shared goal. London achieved this incredible milestone thanks to a deep data-driven, housing-focused working relationship between the city, local agencies, and veteransÔÇÖ organizations. Working through the cityÔÇÖs By-Name List, this broad local collaboration worked to house and support each veteran.
ÔÇ£Functionally ending veteran homelessness in London is a great step to address our CityÔÇÖs homelessness crisis,ÔÇØ says Craig Cooper, Manager of Homeless Prevention, City of London. ÔÇ£Our shift towards a data-driven housing approach enabled our community to systematically house our homeless veterans and achieve and sustain Functional Zero.ÔÇ£
Functional zero is a critical milestone, now the work is to sustain this success over the long term, keep driving for absolute zero and expand focus to other populations.
ÔÇ£This communityÔÇÖs incredible efforts have proven that ending homelessness is possible,ÔÇØ says Marie Morrison, BFZ-C Director, Canadian Alliance to End Homelessness. ÔÇ£Achieving a functional end to veteran homelessness means that the community now aims to sustain those gains while working toward absolute zero. We know they can do it because theyÔÇÖre working collaboratively and share the same goal that no one should experience homelessness, including people who have served our country.ÔÇØ
This milestone was achieved thanks to the Royal Canadian Legion, Canadian Armed Forces ÔÇô London Morale and Welfare Services, London Cares Homeless Response Services, Local Emergency Shelter, London Police Service, Veterans Affairs Canada, City of London Homeless Prevention, Parkwood ÔÇô Occupational Stress Injury Clinic, Department of National Defense ÔÇô Occupational Stress Injury Social Services, and Lawson Research Institute who work together on the Veteran Advisory Committee.
Key Facts & Definitions:
Between March and August, London reduced the number of veterans experiencing homelessness by over 57%. They accomplished this reduction with a focus on data, building a unified local team, strengthening key relationships with organization serving veterans, and using data to reorient their local homeless-serving system to strategically target resources.
BFZ-C has confirmed that London has achieved functional zero veteran homelessness, which is a dynamic milestone proving a community has solved veteran homelessness and is working toward absolute zero.
The veteran functional zero threshold is based on the communities six-month average housing rate for veterans. The number of veterans experiencing homelessness must be held at or below this functional zero threshold (or three or less actively homeless veterans) for at least three consecutive months. 
A By-Name List is a comprehensive real-time list of all people experiencing homelessness in a community. London was the first community in Canada to achieve a Quality Veteran By-Name List.
This work was made possible by investments from Employment and Social Development Canada and Veterans Affairs Canada into the work of the Canadian Alliance to End Homelessness. Last fall, the federal government committed to ending chronic homelessness in Canada.
Built for Zero Canada, a campaign of the Canadian Alliance to End Homelessness, is an ambitious national change effort helping a core group of leading communities end chronic homelessness and veteran homelessness ÔÇô a first step on the path to eliminating all homelessness in Canada.┬áBy supporting a leading group of Canadian communities to end chronic and veteran homelessness and by focusing efforts on individuals in most urgent need across a broad range of populations (including youth, women, veterans, Indigenous Peoples and rough sleepers), the movement intends to prove that reversing the lethal trajectory of homelessness in Canada is possible and within reach.┬á
Messages of Support:
The Honourable Lawrence MacAulay, Minister of Veterans Affairs & Associate Minister of National Defence
ÔÇ£I really want to congratulate the City of London, and thank everyone who stepped up to help the folks who served our country. Every single Veteran deserves a safe place to call home, and this is a great example for communities across the country to follow as we try to make that a reality.ÔÇØ
The Honourable Ahmed Hussen, Minister of Families, Children and Social Development
ÔÇ£My heartfelt congratulations to the City of London for achieving this ground-breaking milestone. To our Veterans who have served and sacrificed in the name of our country, we are forever thankful. Our government will continue to work with partners in London and across the country through programs like Reaching Home, to ensure every Veteran has a safe and affordable place to call home.ÔÇØ
Tim Richter, President & CEO, Canadian Alliance to End Homelessness:
ÔÇ£Veteran homelessness in Canada demands an urgent and immediate response. The good news is that communities like London are showing that ending it can be done. Veteran homelessness is a readily solvable problem ÔÇô Canada has strong veteran networks, solid expertise in communities and now, a proven model to follow.ÔÇØ
John Sluggett, Royal Canadian Legion
ÔÇ£Solving veteran homelessness is near and dear to my heart, being a veteran myself. Working with these individuals, sharing their stories, finding them the right supports and programs and seeing them housed is very important to me. But the work isnÔÇÖt over. Homelessness will always persist, and we need to continue to come together as a community to support these individuals and ensure they remain housed in our community.ÔÇØ
Anne Armstrong, Executive Director, LondonCares
ÔÇ£This is an exciting milestone for our community. We need to continue to work with our community partners like the Royal Canadian Legion to provide ongoing wrap-around supports these individuals need to stay housed.ÔÇØ